Building Blocks: Minecraft Cross Stitch Patterns for Gamers
Cross stitch is a fun and relaxing hobby that has been around for centuries. However, with the rise of technology and video games, cross stitch patterns have evolved to include popular characters and symbols from these modern forms of entertainment. Minecraft, the popular sandbox video game, has become a popular theme for cross stitch patterns. This article will explore the world of Minecraft cross stitch patterns and how you can create your own unique pieces.
Minecraft Cross Stitch Patterns
Minecraft is a game that has captured the hearts of millions around the world. It has become a sensation and has spawned a large community of dedicated fans. As a result, cross stitch patterns featuring characters and symbols from Minecraft have become very popular.
Minecraft Creeper
One of the most popular Minecraft cross stitch patterns is the Creeper. This is the iconic enemy that players encounter in the game. The Creeper is a green, hostile mob that sneaks up on players and explodes. The pattern for this cross stitch is simple and can be completed in a short amount of time.
Alphabet Blocks
Another popular Minecraft cross stitch pattern is the alphabet blocks. This pattern features letters and numbers that resemble the blocks in the game. This pattern is great for creating personalized gifts or adding a touch of Minecraft to your home décor.
Diamond Tools
The diamond tools in Minecraft are essential for players to progress through the game. These tools include a pickaxe, shovel, and sword. The diamond tools cross stitch pattern is a great way to show your love for the game and create a unique piece of art.
Creating Your Own Minecraft Cross Stitch Patterns
If you can't find a Minecraft cross stitch pattern that you like, you can create your own. This allows you to personalize your cross stitch and add your own unique touch.
Choose Your Design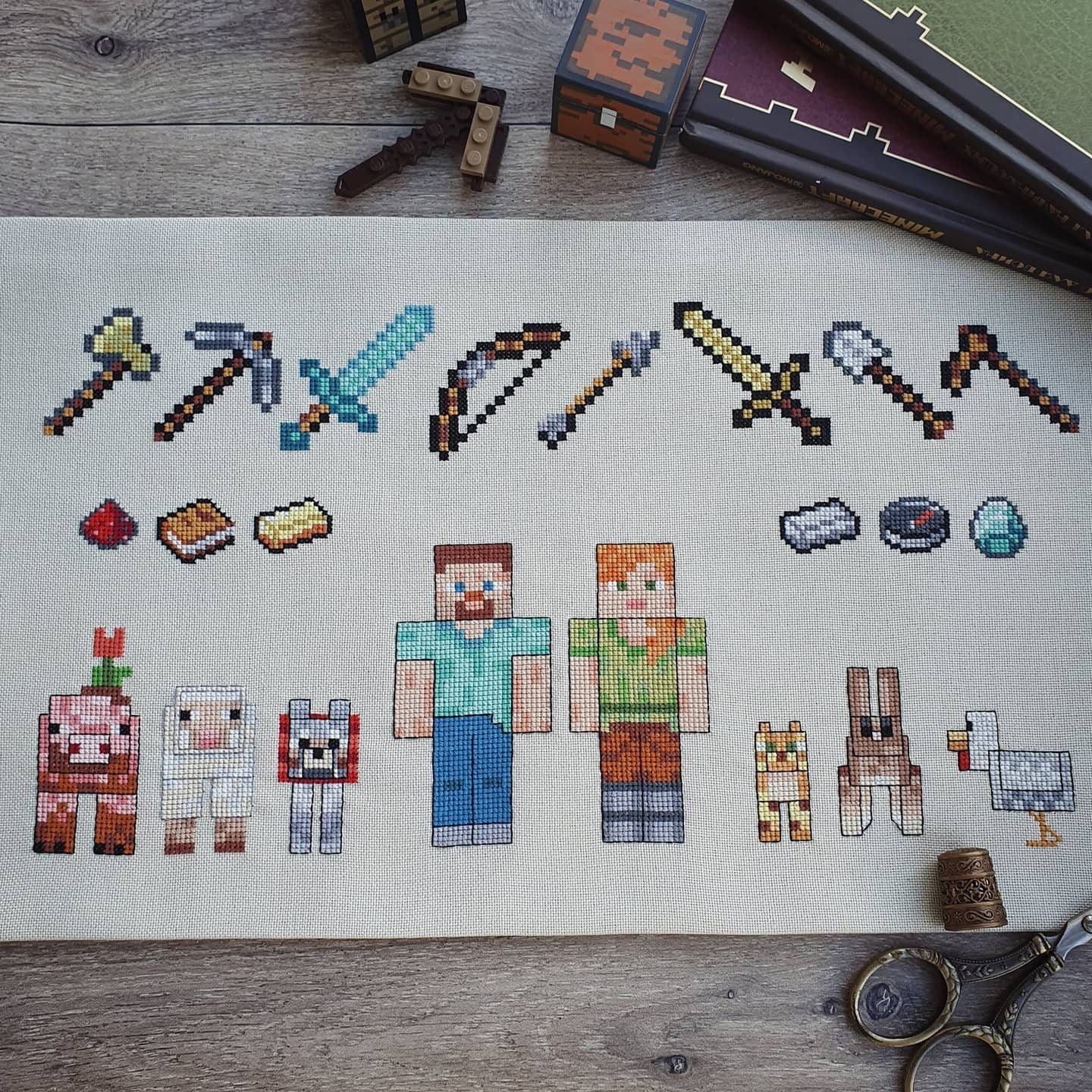 The first step in creating your own Minecraft cross stitch pattern is to choose your design. You can create a pattern based on a character, symbol, or object from the game.
Select Your Colors
Once you've chosen your design, you need to select your colors. Be sure to choose colors that are similar to the ones in the game to ensure that your cross stitch looks authentic.
Create Your Pattern
After you've selected your design and colors, it's time to create your pattern. There are many software programs available that allow you to create your own cross stitch patterns. You can also create a pattern by hand using graph paper.
Conclusion
Creating Minecraft cross stitch patterns is a fun and easy way to show your love for the game. Whether you choose to create your own pattern or use one that's already available, you're sure to have a great time stitching your favorite Minecraft characters and symbols. So grab your needle and thread and get stitching!